Whether you are brand new to Animation Mentor, or a returning student - this starter pack contains information, guidelines and requirements to help you jump right into your AM course.


Software and Hardware Requirements
Please make sure to read through the software and hardware requirements article to make sure you have everything you need before you start:
Animation Mentor's Software and Hardware Requirements
---

Preparing for your Q&A
The "Attend Q&A" button can be found on top of the Students tab within your course. Use that link to join your Q&A throughout the term.
Additionally, a few minutes before your first scheduled Q&A, your Mentor will send you an email with the Q&A link.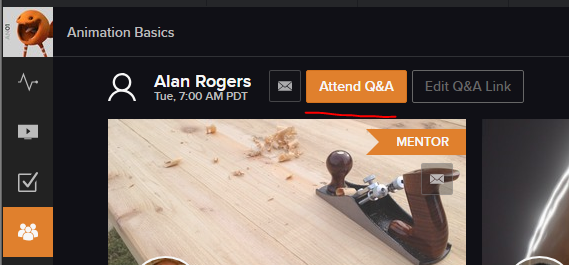 Be aware of your timezone
The Animation Mentor campus has all times set to display in your local time. Be aware of when your Q&A is scheduled to begin.
Note: The Q&A times listed on the Registration Portal are in Pacific Time. So you will need to make sure you know what that translates to in your local time.
Setup Zoom
Learn to use the Zoom tool, set up your webcam and mic, and become familiar with the tool so that you do not struggle installing or setting it up during your first Q&A.
Additional information on Zoom set up, and Q&A expectations can be found in the Q&A Guidelines.
---
Submitting Assignments
When it comes time to submit your assignments, here are a few articles to help you:
---

Additional Resources
Animation Mentor has a large collection of helpful resources at your disposal. Please make sure to look through these regularly, especially if you feel you are struggling.
If despite having looked through these resources, you are still struggling with this course, have problems understanding the material, or have technical issues, we recommend speaking to your Mentor Assistant. They are in your class specifically to help you with AMP, the AM Menu, and any other issues you may experience
If you still can't find the information you need, send in a support ticket to our Support Center and we will do our best to assist you.